Times Square New Year's Eve
When the ball drops in Times Square on New Year's this year, it's going to be marking it's 100th anniversary on the job.

The tradition of ringing in the New Year in Times Square was originated by then-New York Times owner Alfred Ochs, who had moved his newspaper to Longacre Square, which he lobbied to have renamed Times Square.

New York papers used to have a thing about Broadway intersections, and the city, evidently, was eager to oblige them. , Ochs's rival New York Herald, was already ensconced in Herald Square just a few blocks to the south. Immediately to the south of it was Greeley Square, named for Horace Greeley, founder of the New York Tribune. His paper would eventually merge with the Herald and create the Times's chief competiton in the city for years to come.

Ochs decided to show off his new headquarters, then the second-tallest building in Manhattan, with a lavish all-day party culminating in a fireworks show at midnight on January 1, 1905. It was such a hit, he decided to make it an annual event.

But the city fathers outlawed the fireworks display for 1907, so Ochs arranged to have a large, illuminated seven-hundred-pound iron and wood ball lowered from the tower flagpole precisely at midnight to signal the end of 1907 and the beginning of 1908. Thus was introduced the New Year's Eve ball-drop, and it's been dropping ever since. Almost a million people are expected to fill the Square this New Year's Eve and an estimated billion more to watch on TV.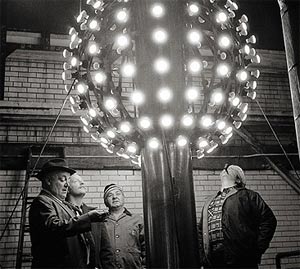 A brief history of the New Year's Eve Ball

Dropping a ball to signal the passage of time dates back to 1833 when the first "time-ball" was installed atop England's Royal Observatory at Greenwich. This ball would drop at one o'clock every afternoon, allowing the captains of nearby ships to precisely set their chronometers.

About 150 public time-balls are believed to have been installed around the world after Greenwich, Most do not survive today. At the United States Naval Observatory in Washington, DC, a time-ball descends from a flagpole at noon each day,

-In 1907, the New Year's Eve Ball made its maiden descent in Times Square. The original Ball was constructed of iron and wood and adorned with 100 25-watt light bulbs. It was 5 feet in diameter and weighed 700 pounds.

-In 1920, a new 400-pound ball made entirely of iron replaced the original.

-In 1942 and 1943, when the use of the ball was suspended due to the the wartime "dimout" of lights in New York City. The crowds who still gathered in Times Square in those years greeted the New Year with a moment of silence followed by chimes ringing out from One Times Square.

-In 1955, the iron ball was replaced with an aluminum ball weighing a mere 150 pounds.

-From 1981 to 1988, red light bulbs and the addition of a green stem converted the Ball into an apple for the "I Love New York" marketing campaign.

-In 1989, the traditional Ball with white bulbs and without the green stem returned.

-In 1995, the Ball was upgraded with aluminum skin, rhinestones, strobes, and computer controls.

-For the 2000 millenium, the Ball was redesigned by Waterford Crystal. It became a geodesic sphere, six feet in diameter, and weighed approximately 1,070 pounds. It was covered with a total of 504 Waterford crystal triangles that varied in size and ranged in length from 4.75 inches to 5.75 inches per side.

-For 2007, 72 of the crystal triangles featured a new design, and the remaining 432 triangles featured Waterford designs from previous years. The triangles were bolted to 168 translucent triangular lexan panels which were attached to the ball's aluminum frame. The exterior was illuminated by 168 Philips light bulbs engineered to enhance the crystal. The interior was illuminated by 432 clear and colored bulbs and 96 high-intensity strobe lights. The exterior also featured 90 rotating pyramid mirrors that reflected light back into the crowd. All the ights and mirrors were computer controlled.

-For 2008, the New Year's Eve Ball weighs 1,200 pounds and will boast even more enhanced color capabilities and LED lighting effects. Waterford Crystal crafted a new design for the crystal triangles, Philips Lighting substantially increased brightness, energy efficiency, and color capabilities, and Focus Lighting developed a new lighting design. The new Ball is more than twice as bright and capable of creating a palette of more than 16 million colors and billions of patterns, while using approximately the same amount of electricity as it takes to power ten toasters or a single oven/range.
The Times didn't stay in the Square for long. It left for new quarters up the street and around the corner in 1913, but the it held on to the building, which had become a landmark, not to mention a wonderful promotion device for the paper, until 1961. In 1928, the famous electric news ticker display was installed, which ran around the entire building, providing all news all the time, a forerunner to CNN and cable news and maybe even the internet. It was first used to announce the results of the US presidential election of 1928. (Hoover beat Smith in a landslide.)

The original sign was made up of 14,800 lamps. The ticker went dark for a decade between 1975 and 1985. Then Newsday sponsored its revival. It's now sponsored by Dow Jones, the parent of The Wall Street Journal. Imitation is the sincerest form of flattery.

In 1961, Douglas Leigh (the man who introduced animated billboards to Times Square as well as the Camel billboard that blew smoke rings in the '50s) purchased the tower and renamed it for the Allied Chemical Company, his chief tenant.
Leigh greatly modified the building's facade, replacing its intricate granite and terracotta elements with marble facing and simple concrete paneling. This refurbishment turned most of the building's exterior into a sheer wall. And cost the building a good deal of its charm in the eyes of many critics, including this one.

In 1996, the building again exchanged owners. Sherwood Outdoor and Jamestown, in preparing the building for upcoming use, decided it was not going to be cost effective to rehabilitate the building for new tenants. Insead, the new owners transformed the building basically into a sign tower. Today it is virtually tenantless.

To allow vinyl signs to be properly attached to the building, a billboard frame was placed completely around the exterior from just above the zipper all the way to the roof, 23 stories above. Given the space allotment for each potential billboard, the building sign grid was positioned for twenty-two different sign placements (five electronic and 17 vinyl).

The building is now called One Times Square, and everyone's glad it's still there, but a lot of New Yorkers feel a lot of the charm has gone out of the old place. Of course, a lot of New Yorkers feel a lot of the charm has gone out of Times Square itself. But both have a job to do every New Year's Eve.

Most people would agree they do it well, bringing tons of positive publicity to New York as the crossroads of the world. They keep a gaggle of aging and aspiring TV personalities emloyed and in the public eye, and they give the rest of us someplace important to go, either in person or virtually via telecasts, to ring out the old and ring in the new and celebrate the arrival of the new year and all the hope and promise it brings.

I had a friend who made the trip in every year unfailingly. I must confess, I spent a lot of New Year's Eves in New York in my youger years, but despite many invitations, I could never quite bring myself to go along with him. That's an awful lot of people, you could drink indoors in New York at 18 then, and in the old days it used to be freezing cold. Plus, you have to get there early. On the Today show, they were saying mid-morning would be good.

Looks great on TV though. In California, where New Year's came three hours later, I used to watch it live each year via earthcam.com (which you can link to from this page, top right). At least when I could get on. Like I say, always very popular.

Okay, that's it. See you next year, maybe in Times Square.
Other places to try on New Year's Eve

Times Square is only one, although probably the most famous, option for ushering in the New Year. Melbourne, Tokyo, London, Edinburgh, Istanbul, Berlin, Moscow , Paris, Athens, Los Angeles, New Orleans, Manila, Madrid, New York City, Las Vegas, Taipei, Hong Kong, Seoul, Chicago, San Rafael, Toronto, Rio de Janeiro, Valparaiso, Niagara Falls, Ontario and Montreal all have notable New Year's celebrations, most accompanied by the one thing New York's hasn't had since its beginnings: massive fireworks displays. Here's a sample of where the crowds gather in other cities.

Chicago - The crowds gather on State Street.

London - Fireworks on the Thames over the London Eye.

Brussels - Fireworks cancelled this year due to terrorist threats.

Paris - Fireworks on the Champs-Elysees. Also Sacre Coeur Cathedral plaza in Montmartre affords spectacular views of the entire Paris skyline.

Moscow - Noivy God arrives, people take to the streets and go calling on friends and neighbours, drinking whatever they are offered until dawn arrives (or until they fall over). Recent years, people have been gathering in Red Square to await the tolling of the Saviour clocktower.

Rio de Janeiro - The festivities are concentrated in Copacabana, with 2 million people every year. There are four stages along the beach with live music shows starting at 8 p.m. featuring everything from traditional Carnival songs to rock and dance.

Los Angeles - They watch a rerun of Times Square from three hours earlier and pretend it's live. One station televises a Las Vegas New Year's show. Like they even bother to notice whether it's day or night in Las Vegas. I can't think of a city where time means less. At the stroke of midnight the casinos will pause the slot machines for one-tenth of a nano-second in observance. In the big rooms, whoever's on stage will lead the audience through half a chorus of Auld Lang Syne, and a guy at one of the front tables will keep talking to his (much younger) date all the way through it. LA really needs to work on New Year's Eve.

Disney World, Orlando, FL - Hey it's better than LA, and they hold it every night of the year.