Bill O'Reilly is a two-fisted, hard-drinking, skirt-chasing son of the Old Sod, and we're proud of him. But Billy darlin,' for the love of God, get down off this Christmas rant, which (a) is doing no one and no thing, except maybe your ratings, any good at this time of year, and (b) is scaring the horses. Besides, it makes your complexion all splotchy.
This is the time of year when most of us are on our best behavior. We're courteous, we greet each other warmly and respond with good cheer. The life expectancy of old ladies in shopping-mall crossing zones goes up markedly. Does our vocabulary matter all that much?
The roots of the Christmas season in our culture—whether everyone wants to admit it or not—are old, deep, complex and twisted. They go back hundreds of years before the birth of Christ. The Church didn't even embrace celebrating Christmas until late in the fourth century.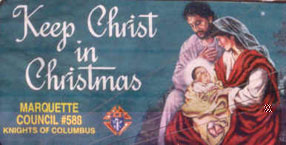 And good Catholic boys and girls learned that Advent, the time before Christmas, is a season not so much of joy as hopeful expectation about what is to come. The very phrase "Merry Christmas" in this period is at best premature from a strictly liturgical point of view.
Everybody knows that the Church set the time of Christmas to coincide with pagan celebrations, like Saturnalia and the Winter Solstice, to keep the parishioners from getting distracted. (Just like Easter. It took me years to figure out what chicks and bunnies had to do with the Resurrection.)
One gets the feeling that Jesus might be ambivalent about seeing His birthday commemorated at all, much less the way it is. While He might approve of the general feeling of good will, He might well wonder why so many people need half a load on to get there. But I think overall He'd be dismayed by all the Christmas parties and toys and shopping stress and commercial greed. I don't believe He was a capitalist.
But Christmas in America is, at root, just another example of the fact of evolution. Christmas is a highly personal celebration of the human spirit. Going back to the time when our early ancestors first figured out, sitting around in their cold, dark caves with the days getting shorter and the temperature dropping steadily, that life was a cycle and the sun would be coming back. You'd want to party the first time you figured that out, too.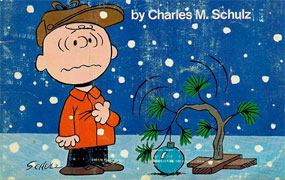 People have been complaining about the secularization of Christmas since I was a boy. I remember the "Put Christ Back in Christmas" campaign in the early 50s and my Catholic school nuns bemoaning the growing currency of the shorthand Xmas. Devout, those nuns, but not Greek scholars, or they would have known that Xmas didn't spring from the evil minds of Godless atheists.
(T)he name Christ has for a thousand years been abbreviated as X, which is not the Roman letter "eks," but the Greek letter "chi," standing for the first letter of Christ when written in Greek as "Christos" (as transcribed into Roman letters). Some of the words using this abbreviation are X, Xp (Greek chi-rho, or "Chr"), and Xt for "Christ," Xren for "christen," and Xtian for "Christian."
The use of Xmas for "Christmas" is first found in the sixteenth century, in the slightly expanded spelling X'temmas; the Xmas form was in use by the eighteenth century. The X has always been used in religious contexts, and was often lavishly decorated in manuscripts, for example the glorious Chi-Rho page of the Book of Kells, the ninth-century illuminated gospels. The assumption that the abbreviation is somehow "weak" or "irreligious" since it "removes" the Christ from "Christmas" is a thoroughly modern idea.
It should come as no surprise that throughout its history, Xmas has been found more often in letters or other informal works where space is valued. It should be noted note that Xmas and other X abbreviations were usually found in the writings of educated people who knew their Greek.
Words@Random
www.randomhouse.com/wotd/index.pperl?date=19981223
The current popular, and mostly secular, vision of Christmas in America derives from notable New York literati (obviously before everything good starting coming from the west coast) in the early 1800s: Washington Irving, Clement Moore and Thomas Nast, whose combined efforts, borrowing heavily on Dutch traditions, created the contemporary image of Santa Claus. (Nast also gave us the Republican Elephant and the Democratic Donkey. The man would have made a fortune in the era of ad agencies.)
Later in the same era, Charles Dickens, made an eloquent pitch for the notion that Christmas was a good time to be nice to each other, particularly the less fortunate. He was also a big fan of sumptuous family Christmas meals. His book "A Christmas Carol" was published in England in 1843. It was not immensely profitable for Dickens, who financed the printing and distribution himself because he was feuding with his publishers, but it was exceedingly popular. In the first few days of its release, it sold six thousand copies. The book Dickens produced was lavishly crafted but sold for only five shillings a copy so that everyone could afford it. A rarity then as now: a man who practiced what he preached.
You could also give a special service award to William Sidney Porter (O'Henry) for his short story "Gift of the Magi," which was published in 1906 and concludes thusly:
(H)ere I have lamely related to you the uneventful chronicle of two foolish children in a flat who most unwisely sacrificed for each other the greatest treasures of their house. But in a last word to the wise of these days let it be said that of all who give gifts these two were the wisest. O all who give and receive gifts, such as they are wisest. Everywhere they are wisest. They are the magi.