from The (Charleston, SC) Post and Courier, 5/29/06
The last known intact set of Revolutionary War flags is on display in the Old Exchange Building through today as part of Spoleto Festival 2006.

The flags belonged to the 3rd Virginia Detachment, which was overtaken and defeated by Lt. Col. Banastre Tarleton in a fight known as the Battle of Waxhaws in 1780. After his victory, Tarleton seized the flags and sent them back to his family in England.

Sotheby's will auction the flags on June 14, Flag Day, in New York and will include a fourth flag captured by Tarleton during a 1779 engagement at Pound Ridge, NY. Altogether the four flags could go for up to $10 million.

Today is the 226th anniversary of the Battle of Waxhaws.
from The New York Times, 6/14/06
Two and a quarter centuries after they were captured from Continental troops and spirited away to England by a British officer, four rare Revolutionary War battle flags were sold on American soil in a Flag Day auction yesterday for $17.3 million. The price set a record for flags as well as for any sale of a Revolutionary War artifact, independent experts said.
In Mel Gibson's movie The Patriot, his character is based loosely on the South Carolina Revolutionary War hero, Francis Marion. The character of Gibson's nemesis, the villainous Col. William Tavington (played with sadistic exuberance by British actor Jason Isaacs), is based just as loosely on the historical figure Col. Banastre Tarleton.

Tarleton was the most reviled Brit in America during the war, referred to as Ban the Butcher or Bloody Ban, principally for what was widely believed to have been the slaughter of Virginia troops, under the command of Lt. Col. Abraham Buford after they hoisted a surrender flag at the Battle of Waxhaws (on the border of North and South Carolina) on May 29, 1780. When he was done, Tarleton relieved the survivors of their regimental flags, which eventually accompanied him back to England, along with one he had liberated earlier during a battle in Pound Ridge, NY.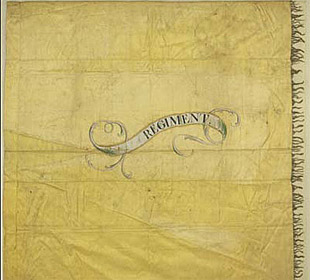 Two Buford Battalion Standards. The three South Carolina flags together, known collectively as the Waxhaw colors, fetched $5.056 million.
Historians aren't of one mind as to whether Tarleton merited his barbarous reputation. At one point in the Mel Gibson movie, he's shown burning down a church with the congregation still inside it. This is after he shoots one of Mel Gibson's sons in cold blood. History records no such incidents, although it seems clear he wasn't above burning a homestead or two by way of sending a message to some of the locals.

Tarleton's own explanation for what happened at Waxhaws was that he offered quarter and that Buford preferred to stand and fight. He acknowledges that he lost control of his men briefly during the battle when his horse was shot out from under him, pinning him to the ground.

In his memoirs, Tarleton explains it thus: "The loss of officers and men was great on the part of the Americans, owing to the dragoons so effectually breaking the infantry, and to a report amongst the cavalry, that they had lost their commanding officer, which stimulated the soldiers to a vindictive asperity not easily restrained."

Whatever happened, one thing is clear: it was a one-sided, and brutal, battle. Tarleton's cavalry easily sliced though the American line. Buford is supposed to have then tried surrendering or calling for a truce but was ignored by the British who later claimed that the Americans had shot at Tarleton after surrendering.

In all, 113 Continental soldiers were killed, 150 wounded and 55 taken prisoner. Against British losses of five killed and 14 wounded. Some of the American dead reportedly sustained sixteen saber and bayonet cuts each. Col. Buford was not among them, having escaped from the field on horseback.
"Lieutenant-Colonel Banastre Tarleton" by Sir Joshua Reynolds. At his feet, the trampled flags of defeated rivals. Dashing, eh wot? Note the painter hides Tarleton's right hand. He lost two fingers to a musket ball at the Battle of Guilford Courthouse, two months after Cowpens.
Another thing that is clear is that Tarleton was a far superior field commander to Buford. For starters, he was outnumbered 3-2; the Virginians should have easily fought him off. There are indications Tarleton fully expected they might, but Buford couldn't stop running long enough to stand and fight. And when he finally did set up a defense, he held his fire until Tarleton's Dragoons were within ten yards of them and coming at the gallop. They got off one ineffective volley before they were cut to ribbons.

What's more, Tarleton had caught up with Buford's regiment after giving it a ten-day head-start. Buford's troops had journeyed south to assist in the defense of Charleston, but they arrived too late and turned around on orders to flee, supposedly taking the Governor of South Carolina with them. Tarleton ran the fleeing contingent down by driving his own force relentlessly.

Evidently, the man had a particular genius for moving men and horses (and even an artillery piece) over large swaths of ground in a short period of time. . His men numbered fewer than 300, a mixture of mounted infantry, cavalry and regular British dragoons. His pursuit of Buford stretched more than 100 miles, and possibly as much as 150: reports differ.

Whatever the distance, he covered it in 54 hours, which took a heavy toll on both horse and rider. The weather was hot, and a number of mounts, some of which were carrying two men, died along the way. By the time his scouts located Buford's column, the Legion was on its last legs. Yet he vanquished Buford and Co. in a fierce and bloody battle that lasted only 15 minutes. (Sotheby's auction was supposedly quite spirited itself and lasted almost as long as the battle did: 14 minutes.)

Cornwallis was impressed with Tarleton. "I wish you would get three legions, and divide yourself into three parts: We can do no good without you," he wrote him. (In later years they would sever ties. Understandably, some bitter feuding went on in England after the Colonies were lost, with much finger-pointing, recrimination and blame placing. Reputations were sullied, feelings hurt and relationships destroyed.)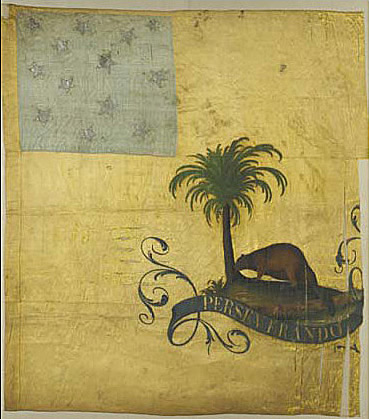 One of four regiment flags auctioned by Sotheby's for $17.3 million (more than the cost of the entire Revolutionary War). This Gold Battalion Standard is made of gold silk, and has a painted image of a beaver gnawing a palmetto tree with the motto "Perseverando" underneath and a blue canton of 13 stars. One expert believes it may have been sewn by Betsy Ross.
Tarleton had scored a similar triumph at Pound Ridge. Riding through the night, he and his Green Dragoons (who were, in fact, American loyalists) made a lightening attack on the 2nd Regiment of Continental Light Dragoons raised in Connecticut by Colonel Elisha Sheldon. After scattering the Americans, seizing their stores and weapons and capturing their regimental flag, Tarleton returned to Long Island, having forced his men to ride 64 miles in 23 hours.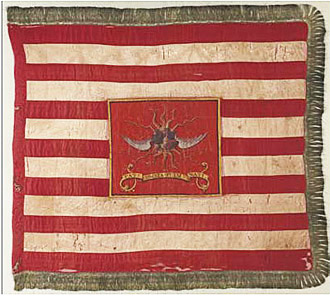 The regiment flag of Sheldon's Dragoons, taken at Pound Ridge, NY, fetched $12.36 million. It is the earliest surviving example of an American flag with thirteen red and white stripes. In the flag's middle is a canton, at the center of which is a particularly striking design of a black thundercloud with wings on each side, from which gold and orange thunderbolts emanate.
But it wasn't all cakes and ale for Tarleton. He would learn soon enough the fleeting nature of fame and the fickle loyalty of admirers. At the Battle of Cowpens, the wheels came off.
Tarleton, who was then all of twenty-six years old, was patrolling the Carolina upcountry against Patriot forces. Cornwallis had split his troops in half, and Tarleton was leading some 1.000 men. He was on the trail of a wing of the Colonial Army commanded by General Daniel Morgan. On January 17, 1781, at Cowpens, SC, Morgan suddenly halted what had been a steady retreat and, exploiting Tarleton's tendency to rush the attack, sucked the British forces into making a precipitous charge into a trap. Morgan pinned Tarleton's forces down with artillery and regular infantry fire while his own militia and cavalry circled around and attacked Tarleton's flanks on both sides, a maneuver called a double envelopment.
Tarleton's forces were thoroughly routed. He himself barely escaped with fifty-four of his supporters. In all, only about 260 British troops got out. He had lost not just his first big fight, he suffered the worst British defeat of the war. In the eyes of many, he had lost the battle that would lose the campaign that would lose the war that would lose American colonies for Britain. British casualties at Cowpens were 110 dead (10 officers) 200 wounded and 530 prisoners. American casualties included 12 dead.
Tarleton drew swift and stinging criticism from older officers, who asserted he had displayed a disastrous lack of "military maturity." Some of the criticism, no doubt, was motivated by jealousy. Tarleton was not beloved of his fellow officers either, however Cornwallis might have felt about him. Many held him personally responsible for the death of some fine officers and veteran troops. Tarleton submitted his resignation; Cornwallis refused to accept it either out of loyalty or because he was, thanks ironically to Tarleton, short of officers at that moment.
Tarleton had a few more good battles, but it was never the same for him, and in the end he surrendered at Glouster Point, VA, across the York River from Yorktown, at about the same time as Cornwallis. He did not, as in the movie, fall on the field of battle under Mel Gibson's hand. (Although he'd had to fight his way out of Cowpens in hand-to-hand combat with Lt. Col. William Washington, a second cousin of the Father of our Country.)
In the tradition of the day, American officers hosted the defeated Cornwallis and other British officers at their respective tables over the course of several weeks after the end of hostilities. (Cornwallis may have been a no-show at the Yorktown surrender ceremony, protesting illness and sending a second to hand over his sword, but he accepted Washington's invitation to sup.) No Americans invited Tarleton, and none would eat with him. Tarleton asked if the omission was accidental, and he was told that it wasn't. Boys. They really do think war's a game.
But if he was despised in America, Tarleton was received as a hero back in Britain, one of the few from a conflict the English had precious little to feel good about. He was elected to seven terms in parliament, achieved the rank of major general in the regular army, was named a Knight of the Bath and a Baronet, and died in his bed in 1833, outliving most of his contemporaries. (Although Abraham Buford survived him by five months.)
And those flags that got sold on Flag Day in New York? The property of his great-great-great-great-nephew, Captain Christopher Tarleton Fagan. They had reposed at the Tarleton homestead, out of the public eye for 225 years. In the fullness of time, Tarleton's spoils of war netted his descendents $15 million. They most certainly don't revile him. Truth may be stranger than fiction, but not nearly so satisfying.
Cowpens was Tarleton's worst but not his only setback in the Colonies. He also failed in his efforts to capture the real-life counterpart of the Mel Gibson movie character, Francis Marion. Marion is a genuine American all-star entry into the guerilla fighter Hall of Fame. He bedeviled the British throughout South Carolina and seemingly at will.
Readers who are old enough will recall the actor who first put a face to the public consciousness of Marion, none other than Leslie Nielsen, who played the lead in the Disney TV Series Swamp Fox in the late 50s and early 60s. The Disney folks were hoping they had another Davy Crocket on their hands, but the series, while popular, never quite made it up to those lofty heights. Nielson, of course, did. He went on to fame and fortune playing opposite Debbie Reynolds in Tammy and the Bachelor and then, of course, in the Naked Gun series, which was much funnier than Swamp Fox and almost as funny as Tammy and the Bachelor, a quintessentially 50s movie. That Debbie Reynolds is sweet as syrup.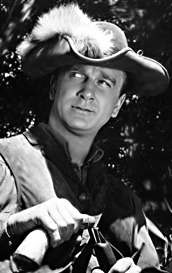 Tarleton searched high and low for the elusive Marion in the woods and swamps of South Carolina but never could catch up to him. He finally (and uncharacteristically) gave up, complaining, "Nobody could catch that damned fox." So the movie got that part right. Tarleton really did give Marion his immortal nickname, the Colonial war effort a powerful recruiting tool and South Carolina one of its most cherished Revolutionary War icons.
Wiley devil, that Leslie Nielsen.